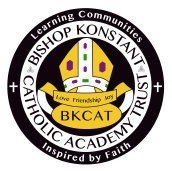 ~
"I have come so that you may have life and have it to the full." John 10:10
~
Our Mission Statement
English Martyrs Catholic Primary School offers distinctive Catholic education within a caring
Christian community where everyone feels loved and valued, confident and secure.
We believe that each person is precious and gifted, unique and loved by God.
With Christ as our inspiration, we work in partnership to create a challenging, effective and
exciting learning environment where everyone is encouraged to embrace opportunity.
Welcome to English Martyrs!
We are extremely proud to be a Catholic Primary School, working in close
partnership with the Diocese of Leeds and other Catholic schools in the
Bishop Konstant Catholic Academy Trust. Governors, staff and parents promote
a vision of education and life which is based on Christ centered virtues that seek
to enable all of our children to aspire and succeed.
We work tirelessly to offer our children a full, creative and stimulating
curriculum that enables them to achieve their personal best and flourish
into well-rounded global citizens. We encourage volunteers, visitors
and prospective pupils and parents to our school,
where you will find a warm welcome.