Home Learning Page
On this new home learning page, you will find a comprehensive set of resources for each year group, so that your child can access learning from home during the school closure. Activities cover the subject areas of Reading, Writing and Mathematics, along with specific projects. There are five activities per subject per week, and there are enough resources to take you through a seven week period.
You will also find a list of spellings for your child's year group. Aim to
work through these a few at a time, ideally on a daily basis.
Alongside these online resources, your child will bring home a paper booklet with a variety of curriculum-focused independent learning activities, along with some additional Mathematical resources to support further learning. These can be used as additional resources to the daily Reading, Spelling, Writing, Mathematics and Project Work.
The Department for Education have opened a National Academy 'Oak Academy' providing remote lessons for Reception to Year 10.
https://www.thenational.academy/

Click Online Classroom then Schedule. You will see each year group along the top so select the appropriate school year for your child. You will then see the daily lessons, Monday-Friday along the top right and the lessons for the day are displayed for you to select. When you click 'Start Lesson,' you will be able to access the full lesson.
Please do explore the site as there are many worthwhile resources at your fingertips.
BBC Bitesize have created daily lessons for homeschooling, created with teachers and other educational experts, featuring a mix of videos, animations, practice activities, quizzes and games.
Check back every weekday for brand new lessons.
https://www.bbc.co.uk/bitesize/dailylessons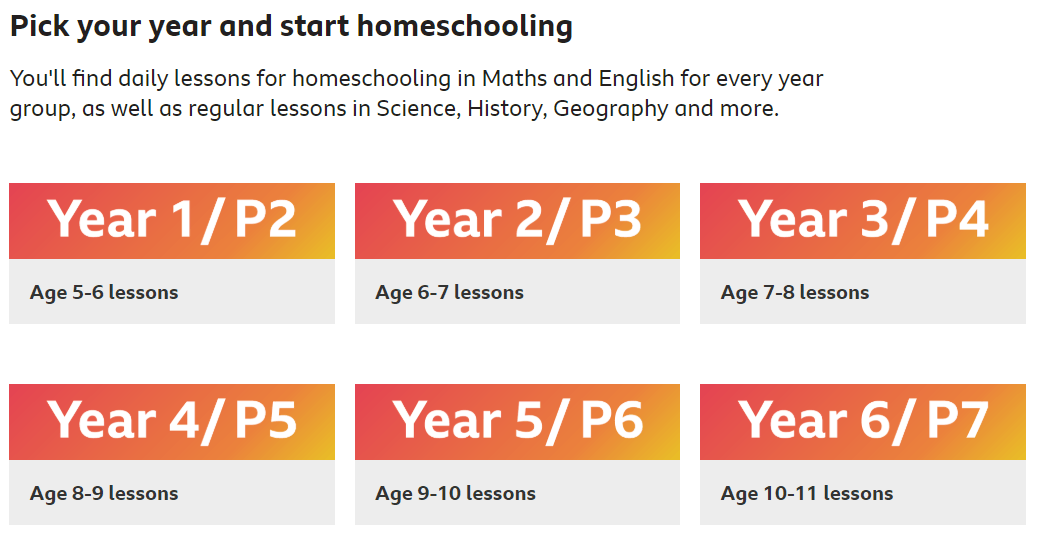 Supporting pupils with SEND
Chatta Club.' is a free, online learning resource aimed at children with SEND. Please find the link below:
You will need to scroll down to 'Join for free' and create an account using your email address. There is a very helpful 'Getting Started' video when you have signed up which will help you access daily lessons and newsletters.
Outwood Academy Trust have produced a dedicated activities website https://activities.homelearning.outwood.com/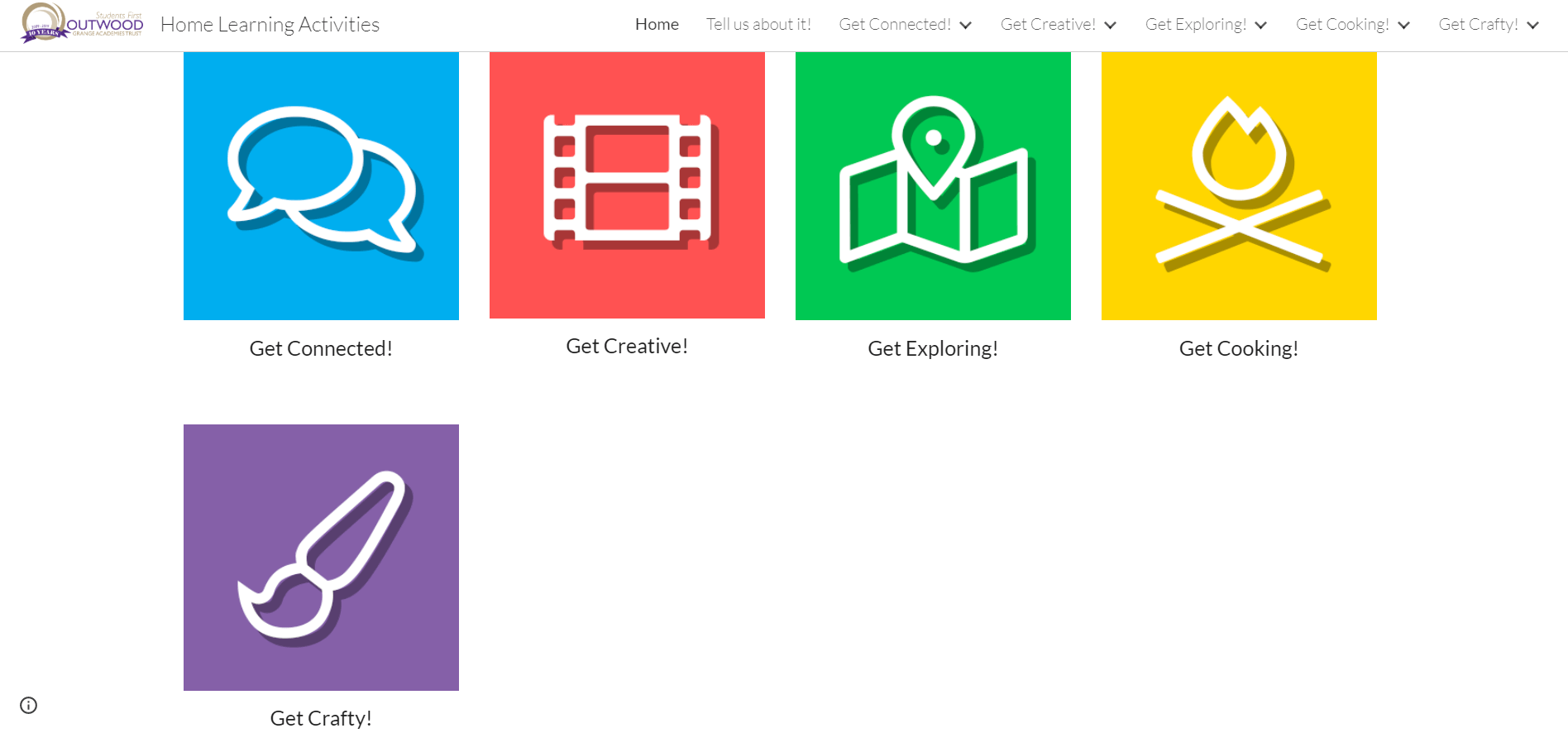 Free 'Leader in Me' Content
As a part of their ongoing COVID-19 support efforts, Franklin Covey have compiled a new Teacher and Families Resources page using their award-winning library of educational and 7 Habits content.



There are some amazing educational cartoons for children and some help for parents too.
We hope this will help families with home schooling ideas and provide interesting and engaging bite-sized learning for all.
We hope it will help keep spirits up and everyone's mental well-being strong.
Wishing you, your teams and staff, pupils and families all the best.
David Walliams is reading a story every day at 11am.
Please find below a variety of links to free resources to support you and your family during this time
E Safety

ThinkUKnow have created a page to support parents and young people online. The site includes home activity packs with simple 15 minute activities support children's understanding of online safety at a time.

There is also parent support information for primary and secondary age groups.

The resources can be found here: https://www.thinkuknow.co.uk/parents/Support-tools/home-activity-worksheets
Be SMART: Online Safety Video Lessons for 6 - 9 year olds (Childnet)

Childnet have released six new easy-to-follow videos for parents and children to work through together. The 10 - 15 minute videos offer simple, clear online safety advice using fun activities, games and discussion. There are optional follow-up activities to extend children's learning.

The videos can be found here: https://www.childnet.com/resources/video-lessons
The Department for Digital, Culture, Media & Sport has released a guide to help everyone to know how to stay safe online
https://www.gov.uk/guidance/covid-19-staying-safe-online
Royal College of Pediatrics and Child Health Resources:
Resources for parents and carers: https://www.rcpch.ac.uk/resources/covid-19-resources-parents-carers
Stay at home activities: https://www.rcpch.ac.uk/resources/stay-home-activities-children-young-people
General Curriculum Resources
Religious Education
The following links take you to home learning tasks, provided by the scheme we use in school - 'The Way, The Truth & The Life':
Religious Education- Virtues resources
https://www.jubileecentre.ac.uk/1790/character-education/activity-resources
Wednesday Word:
wednesdayword.org/stopgap/Special-Edition.pdf
Mini Vinnies
The SVP/ Mini Vinnies have put together a variety of homework and Easter reflections that are suitable for all
Music
Wakefield Music Services:
Online Learning & Charanga -If you receive music lessons at school, you should have received a login to access music lessons and resources. They are available on Charanga www.wakefieldmusicservicesonline.co.uk If you haven't received a login, then please email Wakefield Music Services at music@wakefield.gov.uk
Big Sing 2020! - We will shortly be launching our online 'Big Sing 2020 – Wakefield OneVoice'. It's 10 years since we began our annual Big Sing and this year we want as many schools, music centres, individuals, families, choirs and teachers to join together and celebrate! This is also ideal for our 4000 young musicians who take part in our weekly Whole Class First Access Lessons. The whole singing festival will be kicking off with an originally composed launch song 'ONE' with opportunities for people to share their performances. There's already a video up there of the chorus and Makaton sign language to learn! Please visit our dedicated facebook page to keep up to date and look out for #BigSing2020 #KeepMakingMusic
www.facebook.com/WMSBigSing2020
Diocese of Leeds Schools Singing Programme:
www.schoolssingingprogramme.org.uk
Virtual singing sessions - every day at 2pm with the Diocese's brilliant singers!
Join in with energising vocal warm-ups, uplifting songs, fantastic musical activities and LOTS of fun, led by the Diocese's expert vocal teachers. Monday to Fridays at 2pm, with weekly KS1 and KS3/4 sessions too. They are packed with all the exciting warm-ups and singing games, musical education and RE content that are normally in our sessions. The sessions last around 25 minutes and are led by a different Choral Director every day.
Physical Activities
Online learning:
Phonics website: www.phonicsplay.co.uk Range of phonics games, currently free for parents. Useful for EYFS - Year 3 children.
Espresso website: https://online.espresso.co.uk Fantastic website with a range of learning activities across the whole curriculum: great for all children!
Purple Mash www.purplemash.com Fantastic website with a range of learning activities across the whole curriculum.
Pobble 365 www.pobble365.com Daily writing and Grammar, Punctuation and Spelling challenge. Useful for EYFS - Y6 children.
Numberblocks www.bbc.co.uk/cbeebies/shows/numberblocks Maths videos and activities for EYFS - Year 1 children.
Alphablocks www.bbc.co.uk/cbeebies/shows/alphablocks Phonics videos and activities for EYFS - Year 1 children.
Bitesize www.bbc.co.uk/bitesize.primary Range of activities and online learning games across the whole curriculum.
Oxford Owl www.oxfordowl.co.uk Range of free e-books.
White Rose Maths www.whiterosemaths.com Range of home learning resources from EYFS - Year 6.
BP Education https://bpes.bp.com/home-learning Variety of Science, Technology, Engineering and Maths activities.
~
A message from Joe Wicks: The Body Coach
Starting Monday 23rd March I'm going to be hosting a free workout aimed at kids LIVE on my YouTube channel.
With the schools closed and with us all spending more time at home, it's more important than ever that we keep moving and stay healthy and positive.
Exercise is an amazing tool to help us feel happier, more energised, and more optimistic.
The workouts will be fun and suitable for all ages and even the adults can get involved.
You don't need any equipment, so just tune in to my YouTube channel at 9am each morning for a 30-minute, fun workout.
One more thing! I really need your help to spread this message. So please please share this with everyone that might like to get involved, and together we can help keep the nation moving
https://www.youtube.com/watch?v=K6r99N3kXME
~
Below is a lovely verse of hope each school in the Trust
has been sent via the Garforth Peace Flame group.
Lockdown
Yes there is fear.
Yes there is isolation.
Yes there is panic buying.
Yes there is sickness.
Yes there is even death.
But, they say that in Wuhan after so many years of noise
You can hear the birds again.
They say that after just a few weeks of quiet
The sky is no longer thick with fumes
But blue and grey and clear.
They say that in the streets of Assisi
People are singing to each other
across the empty squares,
keeping their windows open
so that those who are alone
may hear the sounds of family around them.
They say that a hotel in the West of Ireland
Is offering free meals and delivery to the housebound.
Today a young woman I know
is busy spreading fliers with her number
through the neighbourhood
So that the elders may have someone to call on.
Today Churches, Synagogues, Mosques and Temples
are preparing to welcome
and shelter the homeless, the sick, the weary.
All over the world people are slowing down and reflecting
All over the world people are looking at their neighbours in a new way
All over the world people are waking up to a new reality
To how big we really are.
To how little control we really have.
To what really matters.
To Love.
So we pray and we remember that
Yes there is fear.
But there does not have to be hate.
Yes there is isolation.
But there does not have to be loneliness.
Yes there is panic buying.
But there does not have to be meanness.
Yes there is sickness.
But there does not have to be disease of the soul
Yes there is even death.
But there can always be a rebirth of love.
Wake to the choices you make as to how to live now.
Today, breathe.
Listen, behind the factory noises of your panic
The birds are singing again
The sky is clearing,
Spring is coming,
And we are always encompassed by Love.
Open the windows of your soul
And though you may not be able
to touch across the empty square,
Sing.
Fr. Richard Hendrick, OFM
If your child has been provided with a school place, here is an example of they will be doing in school during our first week.